AFC Ann Arbor was founded in 2015 to continue the growth of soccer in the city of Ann Arbor. As the organization continues its efforts to achieve that goal, another key pillar for the club is the outlet it provides players who are continuing to develop their game in pursuit of playing at the highest level.
Fan favorite, Sam Zisette joined AFC Ann Arbor in the summer of 2017 and immediately became a key member of The Mighty Oak's Great Lakes Conference Championship winning side. After finishing his collegiate career at Puget Sound, Sam made stops along the way with Kitsap Pumas (PDL) and Seattle Sounders II (USL). Upon the conclusion of the 2017 NPSL season, Sam was given the second annual "Strength in the Oak" Award due to his leadership and work rate on and off the pitch.
"Sam became a part of the AFCAA Family right away and was engaged in all our community outreach. On the pitch he was one of our most reliable defenders and played a huge role in our seven clean sheets," added Chairman, Bilal Saeed.
After AFC Ann Arbor's heartbreaking loss to Detroit City FC in the NPSL Midwest Region Final, Zisette immediately boarded a plane to Spain after receiving an offer to continue his career with CD Almunecar City. Almunecar City is the senior side of Malaga City Academy and is competing in tier 6 Spanish Football. As Sam has been a key role player in the clubs almost certain first ever promotion campaign, he'll be returning to the states in pursuit of a domestic deal here in the US.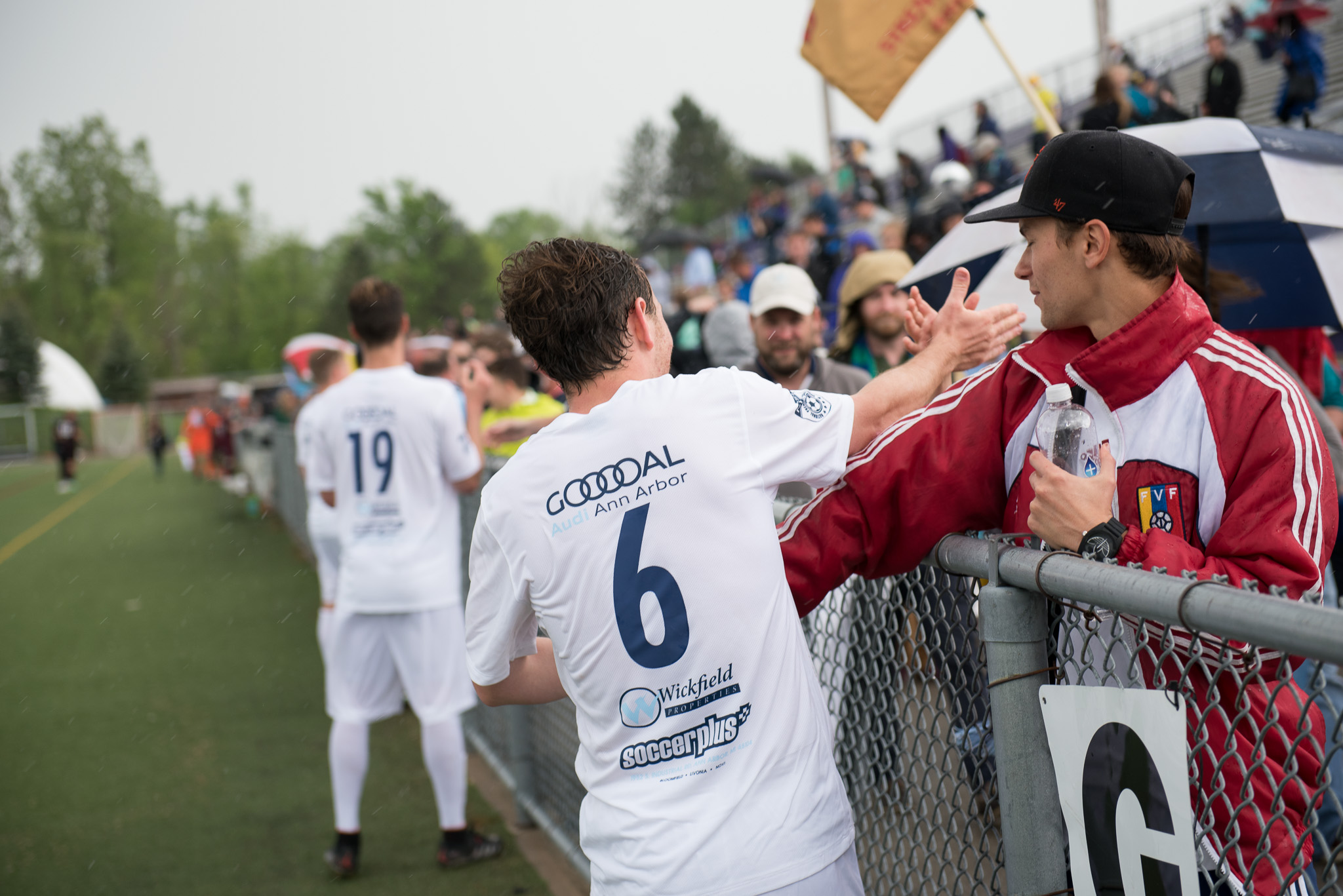 Aftering being viewed as a standout in the 2017 NPSL season, Sam has accepted an offer to participate in the 2018 NPSL Soccer Showcase event this January. This fourth annual event will take place in Kissimmee, Florida and will provide Sam a great opportunity to present his resume and showcase his skills in front of various professional clubs in the states.
Zisette added, "I do reflect on what I've done so far though and have to thank Eric and everyone at AFC for the opportunities given to me there. I wouldn't have had the opportunity to play in Spain had it not been for the connection I made in Ann Arbor and how the club set me up for success. Now I hope to do AFC proud at the NPSL Showcase!"
As a born leader and standout on the field, Sam is among the club's favorite alumni. We were able to catch up and visit with Sam as he is preparing for his return to the US in the coming weeks. His entire interview can be seen below.
Q: Was playing soccer abroad always a goal of yours? Did playing in the NPSL prepare you for play overseas?
SZ: I have wanted to play internationally for a long time and I used to research American players playing in leagues around the world to see what they did to get there. I have always wanted to travel and live in different parts of the world and I've also always wanted to play professionally, so being able to do those both at the same time has always been the dream. NPSL definitely prepared me as it gave me a ton of experience, especially at a position (right back) that I hadn't played since I was 14.
Q: Can you describe the soccer culture there in contrast to the American soccer experiences you had growing up?
SZ: The country revolves around soccer. I loved how every little town had a team no matter what the size and most towns had multiple teams. In America, those small-town teams are popping up more and more so that is cool to see, but in Spain there is obviously much more tradition so the teams have generational fanbases. I think in 15 years or so we'll have more generational fans who grew up supporting a team so then their children follow suit and so on.
Q: Now that you are a few months removed, can you reflect on your summer here in Ann Arbor with AFC? Any thoughts or memories you'd like to share?
SZ: I had an incredible experience at AFC. The staff and owners were extremely professional and organized and all of the players held a high standard at every training and match. The commitment level across the board was amazing to see and be a part of. I have a ton of great memories from my time but the top ones would have to be most of our matches. Winning a ton of matches in front of our home fans especially the home win against Detroit in the pouring rain, celebrating the conference title in Grand Rapids, the away win in Detroit in front of so many people, and Vaughany's late free kick to seal our first playoff win. It was also really cool to see how excited the kids were to get our autographs after every game. That made me feel like we were playing for much more than just ourselves, seeing how much it meant to the community. The friendships I made and time I spent with teammates outside of the field is always something I'll remember.
Q: You had a great college career and have semi-pro stops along the way in the US as well. Now as an international player, do you have any advice for players like yourself that are here? Any advice for the future players at AFC Ann Arbor?
SZ: My first piece of advice would be to take risks and put yourself out there into new and challenging situations. That could be open tryouts, combines, or a team on the other side of the country or abroad. It was really important for me to get out of my comfort zone and test myself in a new environment and if I had shied away from some of the challenges I wouldn't have grown as much both as a soccer player and as a person.
Second piece of advice would be to engage as much as possible with everyone around you and build a network. Players, coaches, fans, anyone you come in contact with. In soccer I think you have to have the ability and be able to perform but you also sometimes need people in your corner who can vouch for you and put you in front of the right people. Most steps I've made so far have come from having built a positive relationship and then that person was willing to give me a chance.