Over the past 3 years, AFC Ann Arbor has become part of the community. It is common for NPSL clubs to have various moving pieces as players look to use their clubs as a springboard for greater opportunities. Then there are the exceptions, most often current collegiate players, that stick around a club and continuously work on their game in a familiar environment. For this club, it's only fitting that the first player to spend all three seasons with The Mighty Oak is Ann Arbor's very own, Tristan Jacob.
The Pioneer High School alum grew up in Ann Arbor, plays collegiate soccer at the University of Michigan and returns for season three with AFC Ann Arbor.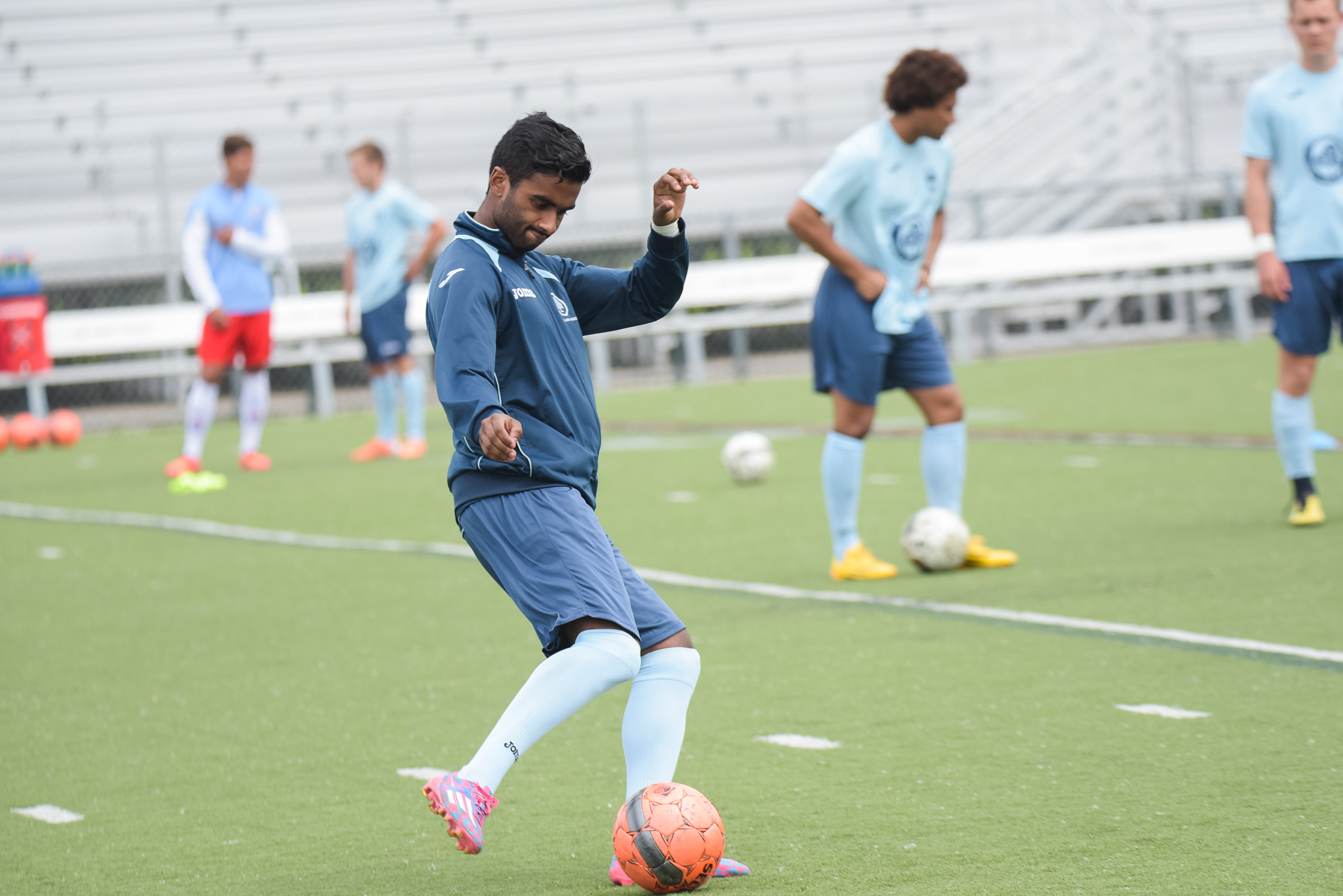 Jacob was a regular spark-plug for Coach Eric Rudland last season and played a key role in 2015 as well. "Tristan is one of the few players returning for his third year with us, so that sets him apart for sure. He came on strong for us last season and is a local player with deep roots in the community. He is on par to do big things this summer," said Rudland.
In addition to his contribution to the club on the pitch, his comfortability in welcoming new people has made him an unofficial tour guide for the majority of players who are new to the area.
Through an internship program Jacob at the University of Michigan, he'll be working this summer with Ozone House, a local non-profit which provides free confidential support for youth and their families, as well as emergency shelter for high risk youth age kids. As he utilizes his love to connect with and help people through this new opportunity, he's found yet another way to give back to the community he loves so much.
Read the full interview with Tristan below:
AFC: You're officially the only player to have been with The Mighty Oak every season. What does this club mean to you personally? And how cool is it that it's in your beloved hometown of Ann Arbor which means you get to play in front of your (very) big following?
Tristan: This club means a lot to me, I've got to see it grow from the beginning and I've loved being part of the growth. It's been awesome being able to represent my hometown for the University of Michigan as well as AFC Ann Arbor. The fans for AFC Ann Arbor are incredible to me and I have made memories here that I will never forget.
AFC: You've overcome some tough injuries the past few seasons. How have you stayed sharp physically and mentally? What has kept you motivated?
Tristan: The last couple of my collegiate seasons I have had to overcome a number of different injuries, but a lot of credit to our head athletic staff trainer Bill Shinavier for always working with me to help me come back stronger. At times it has been hard to keep coming back from injury, but I stay motivated by the people who have supported me throughout my life including family and friends. I feel as if I have a lot more to show for both the University of Michigan and AFC Ann Arbor and I am excited to see what the future holds for both teams.
AFC: You recently received a fellowship at the University of Michigan. Can you tell us more about that? What is it for? How long is it? What will you be doing?
Tristan: I recently got accepted for an internship through the University of Michigan called the Development Summer Internship Program (D-SIP). I'm very excited about it because I'll be working with a non-profit organization called the Ozone House which is a program that provides free, confidential support for youth and their families, as well as emergency shelter for high risk youth age kids. In the future I want to be impacting people's lives in a positive manner, so being able to get started with the Ozone House is something I'm very thrilled about.
AFC: You are without a doubt the unofficial tour guide for the out of town guys. You not only embrace this role but you absolutely love it. Is it your love for Ann Arbor...your love for meeting new people....the combination?
Tristan: I have a real passion for getting to know new people and hear their stories and backgrounds. With AFC Ann Arbor bringing in many different players from across the country as well as from different parts of the world, I always want to be able to show them how amazing of a place Ann Arbor is. It is important to me to make them feel as if they are at home, so I would say it is a combination of my love for Ann Arbor and my love for meeting new people. The friendships I have made from the experience with AFC Ann Arbor have been incredible, I still am in contact with guys from the first year who live abroad as well as guys from the 2nd year.
AFC: This is year 3 for you with the club. What are you hoping to accomplish as a team and what do you hope to see your role be in achieving that goal?
Tristan: I hope as a team we can win the league and make a very far play-off run. I want to be able to impact every game I am part of, defensively and attacking wise. It is an opportunity for me to show Ann Arbor what I can do on the field as well as stay sharp for my upcoming collegiate season.
About AFC Ann Arbor
AFC Ann Arbor completed a very successful inaugural campaign in the Midwest Region of the National Premier Soccer League finishing 2nd in the conference while earning the club's first playoff berth. The club's third season kicks off in May as The Mighty Oak look to continue their winning ways under Head Coach Eric Rudland. Youth, General and Premium Memberships for Season Tree can be purchased here.